Careers
Careers at Veritas Health
Veritas Health publishes content enjoyed by millions of people who want to learn more about their health. Our four websites—Spine-health, Arthritis-health, Sports-health, and Pain-health—provide comprehensive information on a range of health topics, delivered in an accessible way.
We're always interested in hearing from talented individuals who want to join our award-winning team.
---
Our Story
Veritas Health is a smart, collaborative team of editors, illustrators, developers, marketers, and salespeople all working to serve the needs of our audience and grow our business. We publish, organize, and market the highest quality online health information for patients dealing with specific health conditions. We work with clients that include healthcare systems, manufacturers, and practitioners.
We value attitude and ability over prior experience.
Our environment is casual but focused.
We offer many benefits, including health insurance, 401k, profit sharing, individual stipends for educational/career development, flexible hours, minimum travel, and most importantly, the pleasure of working on an outstanding team.
Our office is located in Deerfield, IL, near both highways and the Lake Cook Road Metra station.
---
How I created my own role at Veritas Health as a medical illustrator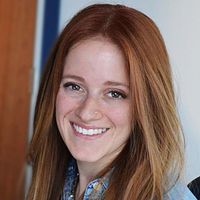 Molly Huttner is a medical illustrator at Veritas Health. She produces illustrations, animated gifs, and videos that help simplify complex health concepts. The best part? Molly reached out to Veritas Health and pitched the creation of her role. The Muse interviewed her to learn about how she did it.
---