Careers
Our Story
Veritas Health is a smart, collaborative group of talented individuals all focused on rapidly growing our business. We publish, organize, and market the highest quality health information online for patients dealing with specific health conditions. For example, our spine-health.com site is the market leader for spine, garnering 75% of market share for patients seeking information and solutions online. As a result, healthcare systems, manufacturers, and practitioners invest their marketing resources with spine-health.com because of the high level of quality and the proven ROI they enjoy. We're quickly growing our newer sites, sports-health.com and arthritis-health.com - with more sites under development. The pitch is a joy to sell - our sites truly help patients, we deliver impressive results for clients, at a reasonable investment.
We value ability and attitude over prior experience. Casual environment, intense focus, superior results - that's us. And yes, we are passionate about what we do.
We are pleased to offer many benefits, including health insurance, 401k, profit sharing, a self-directed training budget to use towards educational/career development, flex and summer hours, minimum travel...and most importantly, the intrinsic rewards of collaborating with our team of exceptionally smart, dedicated, and kind-hearted individuals.
Located in Deerfield, IL, near both highways and the Lake Cook Road Metra station.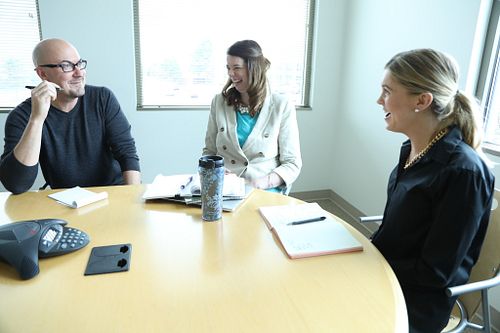 How I created my own role at Veritas Health as a medical illustrator
Molly Huttner is a medical illustrator here at Veritas Health. Her job is pretty cool, and includes drawing 3D images and animations of the human body and various molecules. The best part, though, is that she actually created her own role here at Veritas Health and the Muse interviewed her to find out how she did it.