Veritas Health Wins 3 Hermes Awards
Spine-health.com Receives Top Award for Website Design
April 19, 2019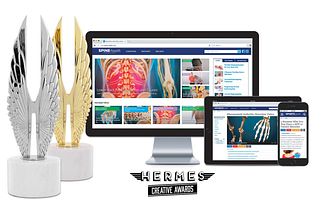 Deerfield, Illinois: Veritas Health is proud to announce that our work has been recognized by the Association of Marketing Communications Professionals (AMCP) with 3 Hermes Creative Awards for outstanding achievement in writing, video production, and design.
For the second year in a row, Spine-health.com has received the highest honor—a Platinum Award—for website design.
In addition to the Platinum Award, Veritas Health received a Gold Award for the video, Why Do My Joints Crack, as well as an honorable mention in publication design for the book, Chronic Pain: The Essential Guide to Finding Neck Pain Relief.
The Hermes Creative Awards is an international competition for creative professionals involved in media conceptualization, writing, and design. The AMCP and industry professionals award work that exceeds a high standard of excellence and serves as an industry benchmark. The competition has grown to one of the largest of its kind in the world.
---
About Veritas Health
Veritas Health publishes original, unbiased, and comprehensive resources to help millions of people each month make informed decisions about their health. Our rigorous editorial process is modeled after medical journals and ensures articles are reviewed with integrity and objectivity. The Veritas Health platform—including Spine-health.com, Arthritis-health.com, Sports-health.com, and Pain-health.com—is a trusted authority on back pain, arthritis, sports injuries, and chronic pain conditions. For more information visit Veritashealth.com.
###