Chronic Neck Pain Book Wins Gold Aster Award
Veritas Health recognized for excellence and creativity.
May 08, 2019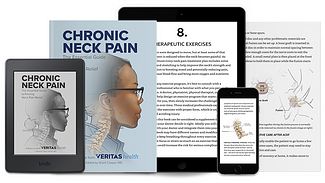 Deerfield, Illinois:
Veritas Health's new book,
Chronic Neck Pain: The Essential Guide to Finding Neck Pain Relief
, was awarded the top honor at the 2019 Aster Awards. The book earned a Gold award for excellence and will be featured in an upcoming issue of
Marketing Healthcare Today Magazine
.
The book, edited by Grant Cooper, MD, is a compilation of doctor-authored, easy-to-understand resources for those who suffer from chronic neck pain. It covers common symptoms and causes of chronic neck pain and provides self-care tips, alternative treatment options, considerations for surgery, and much more.
"It's an honor for Veritas Health to be recognized by the Aster Awards and to be noticed amongst our peers in healthcare," said Jeana Clark, Creative Director at Veritas Health. "Our latest ebook is the result of a great team effort by our designers, writers, and illustrators from across our company. We take pride in continuing to provide accessible and timely health information for our audience,"
In addition to the Gold award, Veritas Health also received a Bronze Aster Award for the Zimmer Biomet Education Center.
The Aster Awards is one of the largest, most respected national competitions of its kind. This elite program has recognized outstanding healthcare professionals for excellence in their advertising/marketing efforts for over 18 years.
"The quality and creativity of the entries submitted seem to increase each year," said Melinda Lucas, Aster Awards Program Coordinator. "The 2019 Aster Awards program brought together some of the best and most creative advertising in the world."
You can learn more about Chronic Neck Pain: The Essential Guide to Finding Neck Pain Relief here.
---
About Veritas Health
Veritas Health publishes original, unbiased, and comprehensive resources to help millions of people each month make informed decisions about their health. Our rigorous editorial process is modeled after medical journals and ensures articles are reviewed with integrity and objectivity. The Veritas Health platform—including Spine-health.com, Arthritis-health.com, Sports-health.com, and Pain-health.com—is a trusted authority on back pain, arthritis, sports injuries, and chronic pain conditions. For more information visit Veritashealth.com.
###