Veritas Health Wins 16 Hermes Creative Awards
Spine-health.com takes home top award for website design.
April 25, 2018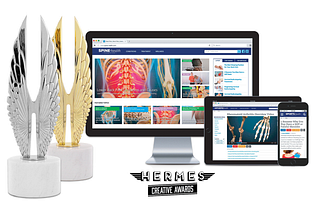 Deerfield, Illinois: Veritas Health, publisher of Spine-health.com, has been honored by the Association of Marketing Communications Professionals (AMCP) with 16 Hermes Creative Awards for outstanding achievements in writing and design.
Spine-health.com has been awarded the highest honor—a Platinum Award—for website design. The Spine-health Blog and Guide to Chronic Pain also received top honors.
"Veritas Health is proud to be recognized for the work we do to connect millions of people each month to resources and knowledge that helps them improve their quality of life," said Veritas Health CEO, Stephanie Burke. "These awards are a testament to the hard work our entire team puts forth to publish comprehensive, accurate health information our audiences depend on."
In addition to the Platinum Awards, Veritas Health won 6 Gold Awards for medical illustration, graphic design, and social media, as well as honorable mentions for web design, writing, and newsletters.
The Hermes Creative Awards is an international competition for creative professionals involved in media conceptualization, writing, and design. The AMCP and industry professionals award work that exceeds a high standard of excellence and serves as an industry benchmark. The competition has grown to one of the largest of its kind in the world.
---
About Veritas Health
Veritas Health publishes original, unbiased, and comprehensive resources to help millions of people each month make informed decisions about their health. Our rigorous editorial process is modeled after medical journals and ensures articles are reviewed with integrity and objectivity. The Veritas Health platform—including Spine-health.com, Arthritis-health.com, Sports-health.com, and Pain-health.com—is a trusted authority on back pain, arthritis, sports injuries, and chronic pain conditions. For more information visit Veritashealth.com.
###