Veritas Health Publishes Chronic Neck Pain Book
Chronic Neck Pain: The Essential Guide to Finding Neck Pain Relief is available today.
November 19, 2018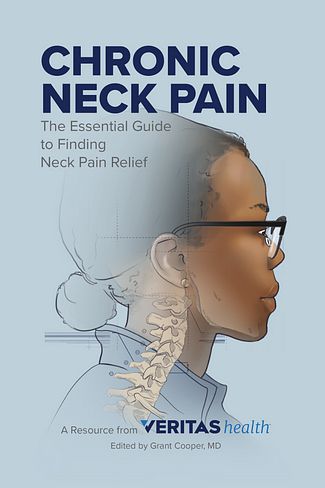 Deerfield, Illinois: Veritas Health, publisher of Spine-health, Arthritis-health, Sports-health, and Pain-health, is excited to announce the launch of a brand new, comprehensive guide to neck pain.
Chronic Neck Pain: The Essential Guide to Finding Neck Pain Relief, edited by Grant Cooper, MD, is a compilation of doctor-authored, easy-to-understand resources for those who suffer from chronic neck pain. The book includes 60 pages of essential information and medical illustrations that will help readers evaluate their options for relief.
In the book, readers will learn about common symptoms and causes of chronic neck pain, when to consider visiting the doctor, self-care tips, alternative treatment options, considerations for surgery, and much more.
According to Andrew J. Cole, MD, Physiatrist at Swedish Spine, Sports & Musculoskeletal Medicine, the book is a must-read for anyone who experiences chronic neck pain. "This book gets straight to what people with chronic neck pain want to know: why neck pain might develop and how to find pain relief that works," said Dr. Cole.
The book is available for purchase today on Amazon.com. The Kindle ebook version is $2.99 and the paperback is $7.99, plus shipping.
You can learn more about the book here.
---
About Veritas Health
Veritas Health publishes original, unbiased, and comprehensive resources to help millions of people each month make informed decisions about their health. Our rigorous editorial process is modeled after medical journals and ensures articles are reviewed with integrity and objectivity. The Veritas Health platform—including Spine-health.com, Arthritis-health.com, Sports-health.com, and Pain-health.com—is a trusted authority on back pain, arthritis, sports injuries, and chronic pain conditions. For more information visit Veritashealth.com.
###