Veritas Health is Proud to Support National Day of Unplugging
Spending time away from your digital device may help reduce back and neck pain associated with "text neck"
March 04, 2020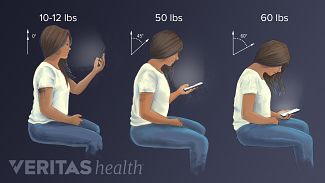 Deerfield, Illinois: Veritas Health is proud to support National Day of Unplugging, an event that highlights the value of disconnecting from digital devices for 24 hours beginning at sundown on March 6 - 7.
Research suggests that spending time away from digital devices may help reduce back and neck pain associated with text neck, the term used to describe neck pain and damage sustained from looking down at your cell phone, tablet, or other wireless devices too frequently and for too long.
The condition typically begins as a relatively mild ache in the neck or upper back. It can also present with sharp pain or stiffness in the neck.
When text neck is suspected of causing pain, it is typically treated with a combination of:
Limiting phone/tablet use to necessary tasks
Using better posture by holding devices up closer to eye level
Performing exercises and stretches that specifically target the neck, chest, and upper back
Learn more about text neck treatment and prevention on Spine-health. For more information about National Day of Unplugging and to take the pledge to unplug, visit nationaldayofunplugging.com.
---
About Veritas Health
Veritas Health publishes original, unbiased, and comprehensive resources to help millions of people each month make informed decisions about their health. Our rigorous editorial process is modeled after medical journals and ensures articles are reviewed with integrity and objectivity. The Veritas Health platform—including Spine-health.com, Arthritis-health.com, Sports-health.com, and Pain-health.com—is a trusted authority on back pain, arthritis, sports injuries, and chronic pain conditions. For more information visit Veritashealth.com.
###